It's that time of the week again as we set our sights on an app that I think would be valuable to anyone that cooks meat in some capacity. It's called GrillTime and it's basically a professional grilling app that ensures that you'll never burn, overcook, or even undercook any sort of meat ever again!
Your grilling sidekick.
GrillTime is a timer and grilling guide that makes barbecuing easier and less stressful. Select your meat, thickness, and level of doneness and then GrillTime automatically recommends the perfect grilling time and temperature. No need to hang around the grill, GrillTime notifies you when it's time to flip and when it's finished.
Here's what other news outlets are saying about Grilltime:
"When it comes to making sure grill sessions don't end in calling for pizza, GrillTime is the clear winner at my house."
– Forbes
"The app is a great-looking no-nonsense timer system that can tell you how long to grill anything, including a chicken drumstick or a handful of strawberries."
– The New York Times
"Don't let the party take a turn for the worse by serving your guests overcooked burgers or undercooked chicken. Take the guesswork out grilling with the GrillTime app."
– Fox News
"Grilling has traditionally and rather stereotypically been a manly thing to do. So don't screw it up when you're trying to impress your friends or significant other."
– Business Insider
"This app has a step-by-step guide if how to grill over 100 different foods. It's simplicity at it's finest."
— otterbox.com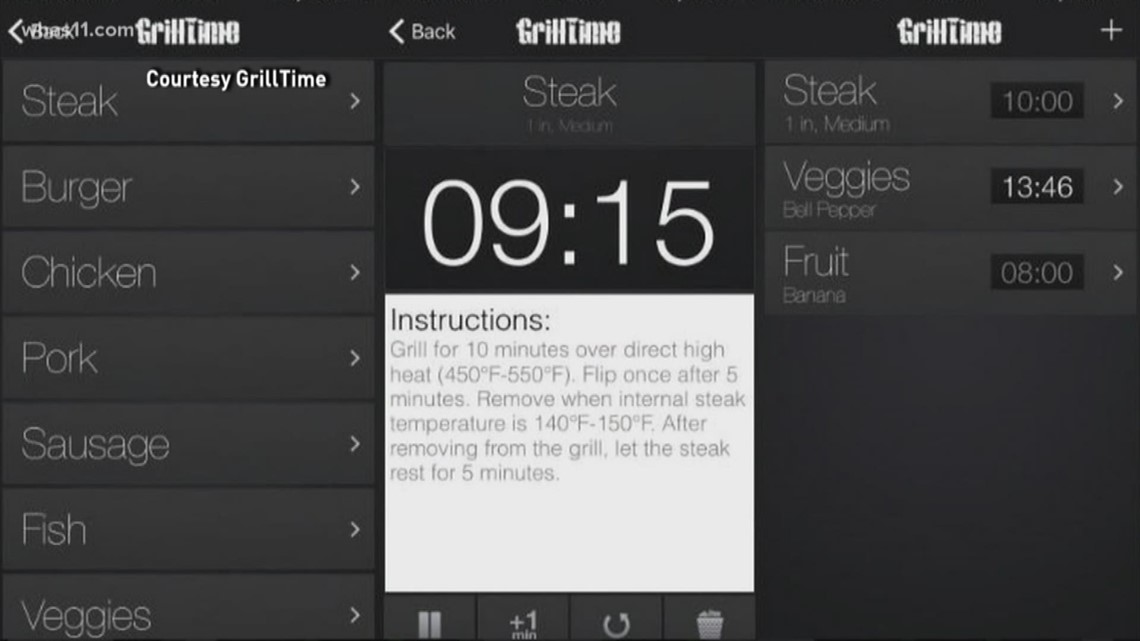 Not to mention that there are so many cool features included in this app including:
* GRILLING GUIDE *
Grilling times, temperatures, and instructions are automatically calculated based on the size and desired doneness of your food.
* MULTI-TIMER *
Easily manage multiple items on your grill with simultaneous timers. With a swipe and a tap, you can quickly start, stop, and add extra time.
* FLIP REMINDER *
GrillTime runs in the background and notifies you when it's time to flip or remove your food from the grill.
* CUSTOM TIMERS *
Create customized timers and tailor to your own recipes.
* APPLE WATCH *
Leave your phone in your pocket and use your Apple Watch to controls timers, view instructions, and get flip reminders.
* INTERNATIONAL UNITS *
Display times and temperatures in either Metric or Imperial units.
Choose from recommended grilling times for:
– Steak
– Hamburger
– Chicken
– Pork
– Fish
– Sausage & Hot Dogs
– Lamb
– Turkey
– Veggies
– Fruit
– or add Custom Timers
You can watch a review on YouTube about this app as well!
Now, this app isn't free but for a small price of $1.99, you can constantly have a professional grilling companion on your phone for the foreseeable future! If you'd like to learn more about the GrillTime app or learn how you can download it to your phone or watch, click here!
Available on Apple or Google Play.