The NordVPN name was inspired by Nordic ideals of confidence, trust, and innovation. It reflects how we value our customer freedom of choice, how we strive to be innovative with our technology and the way we work. Over the years, NordVPN became a trusted online security solution, used by over 1 million Internet users worldwide. Meanwhile, NordVPN became recognized by the most influential tech sites and IT security specialists. It is now one of the most trusted privacy and security service provider in the world, known for the strongly held values and well thought-out features.
What is a VPN?
VPN stands for "virtual private network" – a service that encrypts your Internet traffic and protects your online identity.
Enjoy secure and private access to the Internet with NordVPN! With this amazing app, it encrypts your online activity to protect your private data from hackers or snoopy advertisers. Enjoy global connectivity along with high-performance speed and secure access to streaming websites, censored content and social networks.
What does a VPN do?
Typically, when you try to access a website on the Internet, your ISP (Internet Service Provider) receives the request and redirects you to your destination. As your Internet traffic passes through your ISP, they can see everything you do online. What's more, they can track your behavior and sometimes even hand your browsing history over to advertisers, government agencies and other third parties.
Here's where a VPN comes into play. It redirects your Internet traffic through a specially configured VPN server, hiding your IP address and encrypting all the data that is sent or received. The encrypted data is essentially gibberish to anyone who intercepts it, making it impossible to read.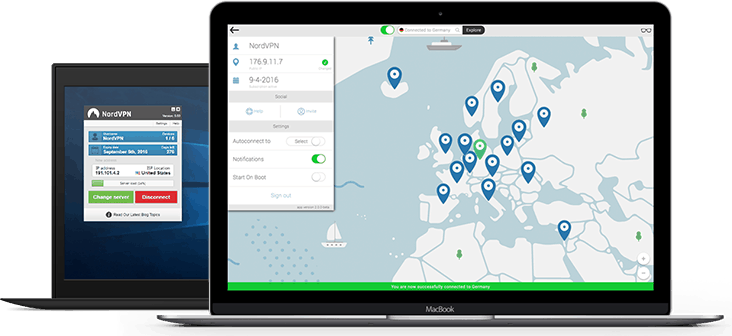 Secure Internet Connection
Consider a public Wi-Fi network, perhaps at a coffee shop or airport. Usually, you would connect without a second thought, but do you know who might be keeping tabs on the network traffic? Can you even be confident the hotspot is legitimate, or might it be operated by a criminal who's hunting for your personal data? Think about the passwords, banking details, credit card numbers, and just any private information that you send every time you go online.
With a VPN enabled, all the data you send and receive travels through a strong encrypted tunnel so that no one can get their hands on your private information. That means even if a cybercriminal does somehow manage to intercept your data, they won't be able to decipher it.
Complete Online Privacy
Without a VPN, your connection is fully open. Your ISP, employer, the Wi-Fi router in the coffee shop mentioned above, any server along the way, or a person with the right tools can look at your data, log it and use it in ways you can't control. Government agencies can monitor your online activity and share the retained metadata with each other, including across country borders through intelligence alliances such as "14 Eyes." Based on your IP address, which depends on your geographic location, third-party sites and services may charge different prices or display intrusive targeted advertising.
With a VPN, you can have peace of mind knowing that your data is encrypted and IP address hidden. Your ISP can no longer see which websites you visit because all your activity is routed through the VPN server. As a result, they cannot collect your Internet metadata no log your browsing history.
Safe Content Access
Various countries around the world restrict access to one type of online content or another. Social networks, games, chat apps – even Google itself is not beyond the reach of censorship. In addition, many academic institutions and workplaces enable firewalls to limit access to websites for various reasons. These range from seeking to increase productivity to restricting inappropriate content.
Websites and services are blocked by denying users' access based on their IP address. When you connect to the Internet, your IP shows the country you are currently in, which means that any restrictions valid there are applied to you as well.
Using a VPN allows you to connect to remote VPN servers, making your IP address look like you are physically located somewhere else. This IP swap helps you access restricted websites and keeps your private information safe at the same time.
Protect Up To 6 Devices Simultaneously
Tired of compromising the online privacy and security of one device for another? With a single NordVPN account, you can secure up to 6 devices simultaneously. Protect your Internet traffic on the go with the NordVPN mobile apps available on the Android and iOS devices, enjoy the intuitive VPN service for the macOS, Windows, and Linux operating systems, or download proxy extensions for Chrome and Firefox.
Still not convinced? Here the conversation that we had this morning about why NordVPN can benefit you:
You might think something like this would be super expensive but that couldn't be further from the truth, the price to maintain a VPN for 6 devices simultaneously? It starts at $3.99 a month!
If you'd like to start using NordVPN for your devices, click here!