With so much going on in North Texas, it's hard NOT to find something to do this weekend! Here are some of my favorites for you to look at!
1. State Fair of Texas (Fair Park – Dallas) – Until Oct. 21st
Come celebrate all things Texan! The theme for 2018 is "Celebrating Texas Innovation," a nod to several of the world's favorite creations [that] were introduced right here in the Lone Star State." Special activities will include concerts on the Main Stage and college football games. Daily activities include the Starlight Parade at 7 p.m. and the Illumination Sensation lights and fireworks show at 8 p.m.
TICKET PRICES:
• General Admission: $18
• Kids under 48″ tall: $14
• Seniors 60 and over: $14
• Children 2 and under: Free
• Seniors 60 and over: Free every Thursday (Oct. 4, Oct. 11, and Oct. 18)
HOURS: State Fair of Texas exhibit buildings open at 10 a.m. and close at 10 p.m. Fridays and Saturdays and 9 p.m. Sundays through Thursdays. Opening times and closing times vary for the midway and museums.
PARKING: Self-parking is available on official State Fair lots for $15 per space.
Get your tickets to the State Fair here!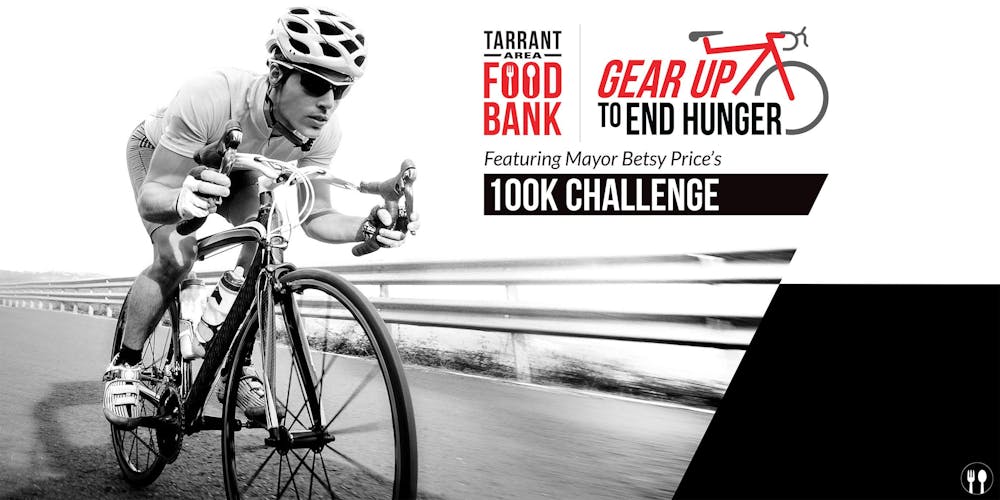 2. Gear Up to End Hunger (Rockwood Park in Fort Worth) – Sat. Oct. 6th – 8AM – 2PM
Gear Up to End Hunger is more than just a bike ride. It's a challenge, a 100K challenge. Finish the course within 15 percent of Fort Worth Mayor Betsy Price's time and receive bragging rights as well as a high-performance jersey.
The 100K begins at Rockwood Park in Fort Worth and loops up to the Texas Motor Speedway before heading back to the park. The bike ride also includes a 30-mile, and a 10 and two-mile course as well. After the ride, celebrate with free food and beverages. We'll also have some fun activities for kids to enjoy too!
We're proud to have Mayor Price as the lead rider and honorary chair of the ride. Like you, she can't stand the thought of any child or any family going hungry. Let's ride to help families not just survive but thrive!
Be a part of this amazing cause by getting your tickets here!
3. Cottonwood Art Festival (Cottonwood Park in Richardson) – Sat. Oct. 6th – 10AM – 7PM
There is an art to having fun at Cottonwood! Join us for this fall's show on October 6 & 7 in Richardson, TX at Cottonwood Park. This FREE semi-annual event features works from the nation's top visual artists and has been a part of Richardson life for almost fifty years. The festival takes place on the first full weekend in May and the first full weekend in October each year.
Now in its 49th year, Cottonwood Art Festival is a juried show. Jurors have selected over 240 artists from 800 submissions to exhibit their museum-quality work at the festival. The artists compete in 14 categories: 2D Mixed Media, 3D Mixed Media, Ceramics, Digital, Drawings/Pastels, Fiber, Glass, Jewelry, Leather, Metalwork, Painting, Photography, Sculpture and Wood. Rated as one of the top art festivals in the United States, this prestigious show is the premier fine art event in North Texas.
Cottonwood isn't just about visual art. The festival also features music with local bands who perform the best in rock, country, jazz, blues, swing and folk. Be sure to check out the Lakeside Courtyard, where you can sit in the shade by the lake and relax while you enjoy your food and beverages.
To learn more, click here!