It's Christmas Time here in North Texas so we thought the best thing you could do this weekend is to go out and see all the amazing Christmas light displays that North Texas has to offer!
1. Addison: Vitruvian Park Lights
Walk and wind through the 12-acre park in Addison, where millions of sparkling LED lights are wrapped around more than 200 glittering trees to create this magical holiday wonderland.
Enjoy the lights and a performance by the Jordan Kahn Orchestra, gourmet food trucks, sweet treats, free photos with Santa, classic holiday characters and an elf balloon artist. Donations will be accepted benefitting Metrocrest Services. The lights will be on through Tuesday, January 1, 2019. The calendar of events includes performances by the Jordan Kahn Orchestra and the Dallas String Quartet.
Parking fee is $10 and is cash only.
Where: Vitruvian Park, 3875 Ponte Ave., Addison, Texas
2. Arlington: Interlochen Lights Display
One of the largest holiday light displays in North Texas comes to life when more than 200 Interlochen homeowners dress up their homes and lawns with Christmas lights and an assortment of holiday-themed displays.
Directions: From Interstate 30E, take the Fielder Road exit and go south to Randol Mill Road. Turn right on Randol Mill and follow it to Westwood Drive. From Interstate 30W, take the Eastchase Parkway Exit, turn east on Meadowbrook Boulevard to Randol Mill Road, then right on Randol Mill Road to Westwood Drive.
3. Arlington: Holiday in the Park at Six Flags Over Texas
Holiday in the Park celebrates the most wonderful time of the year at Six Flags Over Texas. The park sparkles with more than a million twinkling lights and hosts five holiday shows. Enjoy toasty campfires, delicious hot cocoa, a huge tree, Santa Land, and Santa Claus. Dates are: November 16, 2018, to December 31, 2018
Where: Six Flags Over Texas, 2201 Road to Six Flags, Arlington, Texas; 817-640-8900. Located near I-30 and Highway 360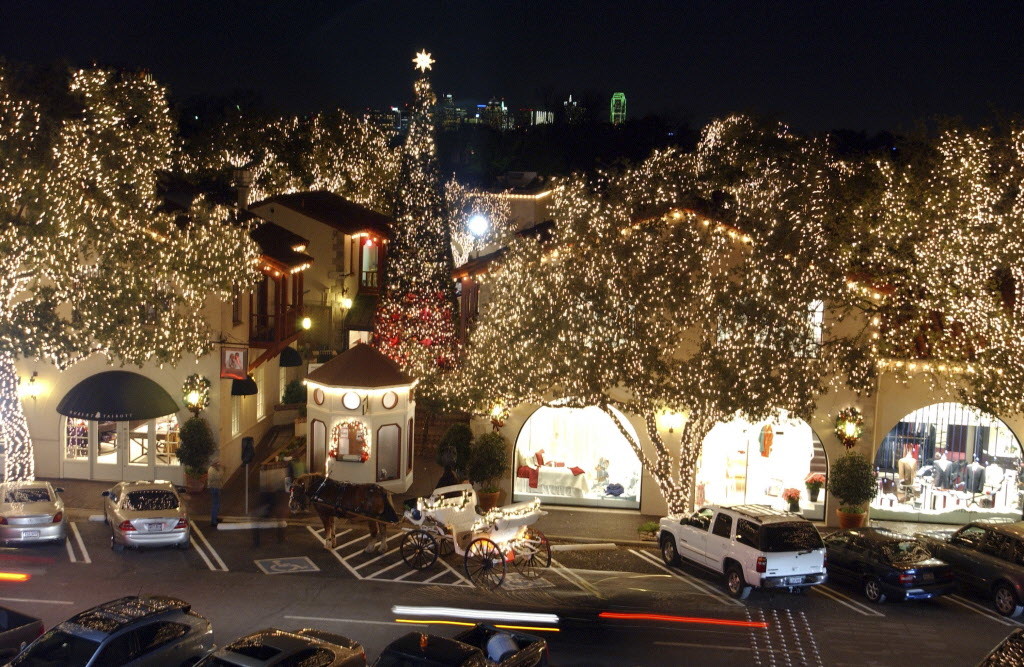 4. Dallas: Highland Park
It's obvious that many of the residents in Highland Park hire professionals to do their decorating, and that makes it one of the best neighborhoods for viewing holiday lights in Dallas. The lights are available from November 23, 2018, through the holidays. Brazos Carriages offer rides through the lights.
Directions: The best place to enter is at Armstrong Parkway and Preston Road. The area is bordered by Preston on the east side, Mockingbird to the north, the Dallas North Tollway to the west, and Armstrong Parkway for an entrance. It's free to drive through; carriage rides are also available for a fee.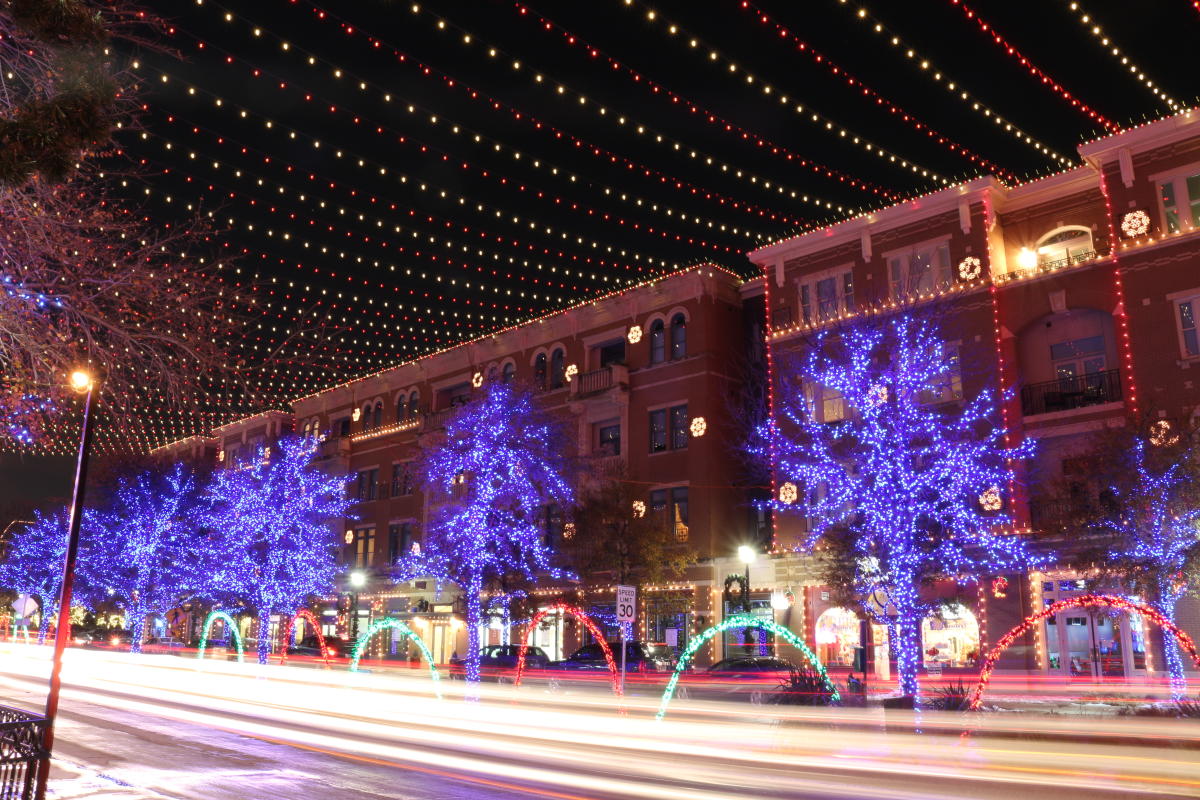 5. Frisco: Christmas in the Square
Christmas in the Square is a light show featuring more than 175,000 lights choreographed to holiday music. Visitors can drive, stroll, or ride in a horse-drawn carriage ride past the shops, restaurants, and amazing holiday display around the square.
The same snow machines used by Disney create a winter wonderland on the sidewalks of Frisco Square. There are "snow flurries" every 15 minutes on Fridays and Saturdays throughout Christmas in the Square—even if it's 75 degrees outside.
Christmas in the Square at Frisco Square continues through December 31, 2018. The Christmas in the Square Light Show will be open nightly from 6 p.m. – 10 p.m.
Where: Frisco Square, Main Street at Coleman Boulevard
6. Fort Worth: Gift of Lights
Gift of Lights at Texas Motor Speedway features more than a million lights and 100 displays. Tickets cost $25 per carload and are available at the entrance or online. You only need one ticket per car. Opens November 29, 2018.
Where: Texas Motor Speedway, 3545 Lone Star Circle, Fort Worth, Texas
7. Grand Prairie: Prairie Lights
Prairie Lights is a two-mile stretch of decorations and festive fun featuring more than 4 million lights, hundreds of displays, a Holiday Magic light show, walk-through lighted displays, pictures with Santa, seasonal food, and family fun. About halfway through the drive, you'll find Santa, carnival rides (rides are included with the cost of admission), snacks, and souvenirs.
Get out of your car at Holiday Village and take a stroll through the trees that will be lit up with tens of thousands of lights along with a brand-new Gumdrop Alley. The event opens Thanksgiving night and continues through December 30, 2018.
Where: Lynn Creek Park is at 5700 Lake Ridge Parkway in Grand Prairie. Take I-30 or I-20 to 360 and go south. Make a left turn at Camp Wisdom Road and a right on Lake Ridge Parkway.
8. Plano: Deerfield
Take a drive through this festively illuminated neighborhood. You can also make a reservation for a carriage ride, which begins in the Legacy Church parking lot at Legacy and Preston Meadow.
Where: Deerfield is located in Northwest Plano between Preston and Coit roads. Enter from Legacy on Colonnade and Archgate, noting one-way and restricted turn signs along Old Pond Drive and Hallmark Drive.
*List is courtesy of Trip Savvy. If you'd like to read their full article, you can click here!*