PSA: Valentine's day is only weeks away. And if you're like me, you probably have NO clue what to get your loved ones. Have no fear, enter the beef jerky bouquet. No, we are not making this up. It's a very real thing, and it comes served in a pint glass.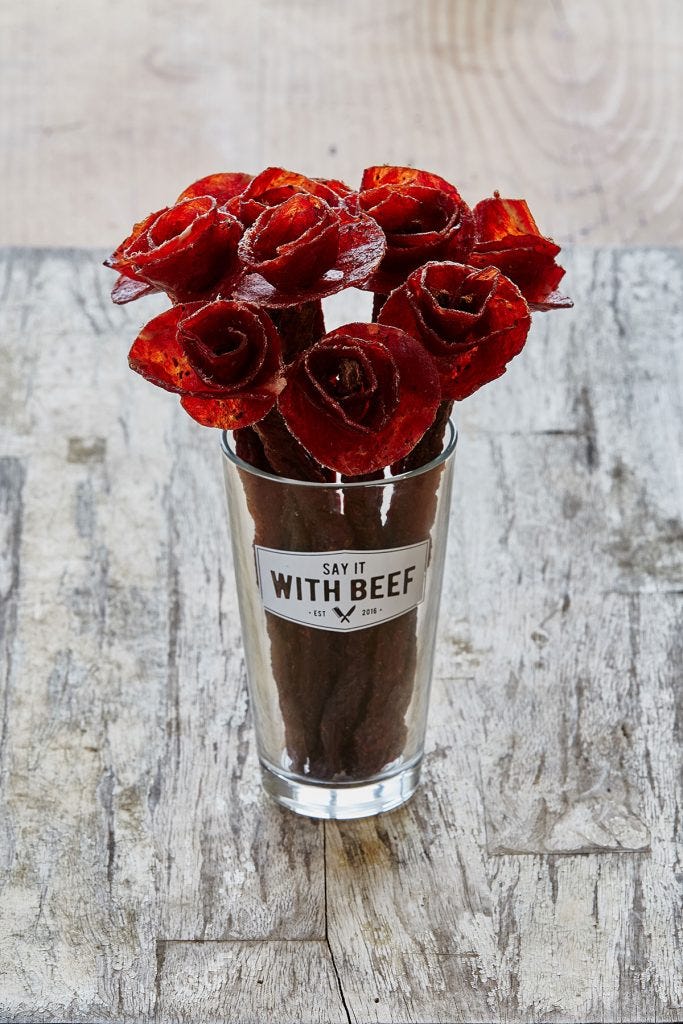 You can choose between half a dozen, a full dozen, and even the flavor of the bouquet. (We all know teriyaki is the best, right?) The broquet—sorry—is perfect for the meat-eating man or woman in your life.
The full description of the jerky bouquet is honestly too good to not put in here:
A poet once said, "We taste the fragrance of the rose." We'll do you one better – you can smell and taste these roses! No gift is more classic than a dozen roses, but instead of sending flowers that wilt and die, why not send a Broquet? Handcrafted and made from over 1/2 lb. of 100% high-quality beef jerky, this bold bunch of flowers is guaranteed to please your nose and taste buds.
This is probably a good time to mention these are also keto, right? Because they 100% are. We found two companies specializing in these meaty broquets, both advertising the bouquets are 100% edible and giving you four flavors to choose from. However, sayitwithbeef.com gives you the option of a pint glass or a beer mug AND the option to add bropourri for just $5 (jerky leftover bits)… which could be the selling point for you.
Whether it's an anniversary, a special occasion, a get-well-soon, or more of a slap on the back, a Broquet from Say It With Beef is the best way to say anything – period. Because, well, flowers made of delicious 100% beef jerky are just 100% better. Get your broquet for that special someone here!
If you'd like to read the full article written by Julia Smith from Delish. you can click here!
If you want to catch Jeff & Rebecca's podcast daily, you can always subscribe on Apple Podcasts, Google Play, Spotify, Stitcher, or Soundcloud! Just search: "Mornings with Jeff and Rebecca"! Also, don't forget to rate and review to help the podcast get found by others!